I'm sick of writing about the Taters losing (3 and 3 now), so I'll politco-geek out a bit instead.
On Thursday, Laura Ingraham had some listeners call in with the theory that the Harriet Miers nomination would be pulled or she would self-withdraw the nomination so that the President could nominate someone with more conservative-base-pleasing qualifications.
I have really avoided commenting on the nomination because IANAL (I Am Not A Lawyer, for the n00bz) and therefore unqualified to really examine her qualifications. I'm pretty sure she shouldn't have been nominated if only for her admittedly close relationship with the President. There is a separation of powers between the Executive and Judicial branches for a reason. Certainly President Bush can be fairly certain of how she may rule during his term, but what kind of influence could he have once he is out of office, and how absurd is it that we are even discussing President Bush's personal influence of a judge in the first place?!
At any rate, the bait-and-switch conspiracy they were discussing made the geeky part of my brain stand up and shout Ninjitsu!
Some of you may be familiar with the Magic: The Gathering Collectible Card Game ™. One of the more recent releases introduced a gaming mechanic called Ninjitsu. They way it works is simple.
Player A declares an attack against Player B with a creature card. Player B has the option of blocking said creature or taking the damage himself. If Player B chooses not to block the attacking creature, Player A (if he has one) can substitute a different (usually more powerful) creature for the unblocked attacker by paying a cost and returning the original creature to his hand. Player B takes the damage from the new creature instead. A pretty wicked trick to pull. So, I found Dante's Magic Card Maker and created some fun cards exploring that fun little concept. May I present Harriet Miers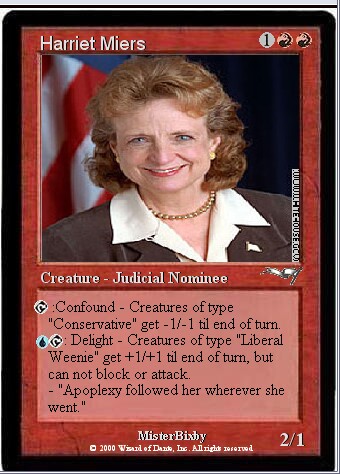 And the Ninjitsu Coup de Grace, Janice Rogers Brown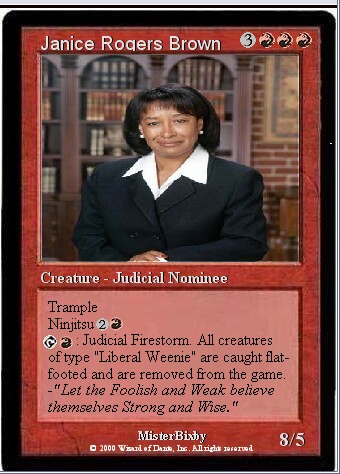 The ever-patient Mrs. Bixby (Not Her Real Name) thinks I have expended way too much energy on such a dorky pursuit as political magic cards. She's probably right. She says, "No, she IS right." I'll leave it with that, but I found it quite funny. In my head. Where all the stuff I say is funny. As opposed to out in the air where none of the stuff I say is funny. … sigh …
Bad blogger. No donut.